Don't waste time choosing between well contractors – call us right away.
If you are looking at different well contractors in Raleigh, North Carolina, you may not be sure who to call. At Yadkin Well Company, we are a full-service operation – we can pretty much do it all when it comes to wells. We handle residential well drilling, commercial wells, wells for farming and irrigation, and well water treatment systems. We also perform installations, repairs, replacements, and upgrades for well pumps. We can even install and maintain geothermal systems in both residential and commercial applications that are used for energy-efficient heating and cooling applications.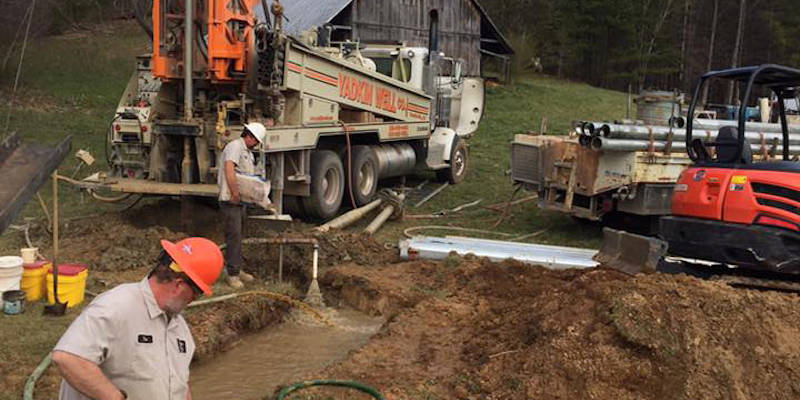 Don't waste time choosing between well contractors – call us right away. When other local companies come across a tricky job, they often give us a call for help. We have been providing expert well services since 1964 and are a third-generation family-run business. Since we started serving as well contractors, we have expanded our services and offerings because we wanted to better meet the needs of the homeowners and business owners of our community. These include deep rock drilling, water and flow inspections, and more. We may not quote you the cheapest price for your needs, but we are sure to offer you the greatest value. Our services are reliable, and our work is quality. We will do it right the first time.
Yadkin Well Company: Geothermal & Well Drilling Experts
Another thing that sets us apart from other well contractors is the availability of our emergency services. We are always on call for our neighbors because we know wells rarely stop working at a convenient time. We will work tirelessly to ensure you have access to reliable water and that your well and your well pump are dependable. Don't hesitate to call us now if needed.
---
At Yadkin Well Company, our well contractors serve Yadkin County, Yadkinville, Ashe County, Surry County, Dobson, Mount Airy, Winston-Salem, Greensboro, High Point, Hickory, Charlotte, Mooresville, Lenoir, Wilkesboro, Statesville, Raleigh, Durham, and Wilkes County, North Carolina.
Similar Services We Offer: