We've Been Providing Clean Water to Our Neighbors Since 1964
Humble beginnings, dedication, and curiosity are what we grew up on and that is how we have gotten to where we are today.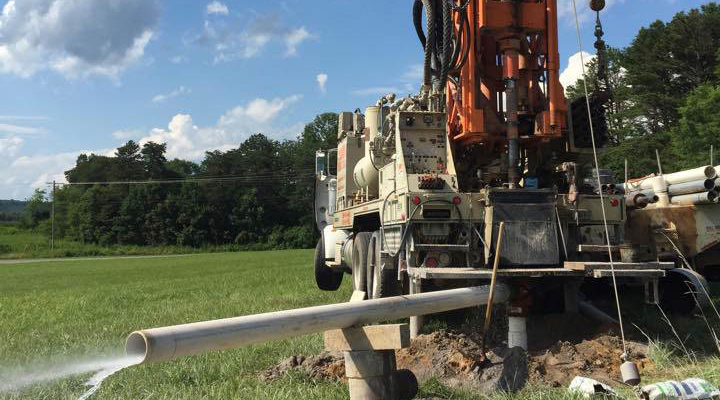 Some highlights of our success:
Family-Owned and -Operated Business
1000s of Happy Customers
Honest Prices
In Business Since 1964
Our Mission
"Quality Reliable Service" has been Yadkin Well Company's calling card for years. We have many years of experience and certifications that allow us to complete water wells and geothermal systems in a safe and timely manner.
Yadkin Well Company has been servicing the Yadkin Valley and the surrounding areas since 1964 in order to help our neighbors have the highest-quality water when they need it.
1964: Jack Brown bought Yadkin Well Company, and it began operating with Jack and Vaughn Brown only drilling residential water wells.
1974: We saw a need and added water well pump installation and repairs to our services.
1976: Jack's sons (Vaughn, Mark, and David) bought him out because his health was on the decline.
1978: With our gained expertise over the years, we began working municipalities to drill their water wells.
1986: We know that not every well should be abandoned when it starts underperforming, so we learned how to fix it. This is when we started offering hydro-fracking to our customers.
1997: With the tools already in hand, our knowledge of water, our knowledge of the area, and our passion to help others, we decided to learn a little more to begin offering geothermal drilling and installation. This will not only help our neighbors but also help preserve our natural resources.
2012: Mark Brown was bought out of the company by Matthew Brown because his health was on the decline.
Today: We continue to grow, learn, and teach as we provide clean and healthy water to our clients on projects of all sizes.
Who We Are
Meet the leadership team here at Yadkin Well Company:
David Brown
David grew up in Hamptonville, NC and is the youngest son of Jack Brown, who turned Yadkin Well Company into a family business when he bought out the original owner (Stanford Steelman) in 1964. During summer vacations and on weekends, he and his brothers would take turns operating the rig. When his father came down with an illness in 1976, he and his brothers decided to buy their father out, all while David was a senior in high school. Since purchasing the company, they have incorporated the business, and David has become the Vice President of what is now Yadkin Well Company. David still is active in the field, so he is also part of the North Carolina Ground Water Association.
David has enjoyed serving with the NC Baptists on mission trips across the country and internationally. In doing so, he has travelled to Haiti with his son and co-owner, Matthew, to drill water wells with Healing Hands International.
Vaughn Brown
Beginning in 1964, at the age of 14, Vaughn helped his father, Jack Brown, after school and on the weekends at Yadkin Well Company. Vaughn has earned an associate degree in electronics from Forsyth Tech. in Winston-Salem, NC along with serving in the Air National Guard from 1970-1976. He began working full time at Yadkin Well Company in 1971 and helped take it over from his father in 1976 after he came down with an illness.
Utilizing his knowledge gained in the drilling business to help others around the world, he has been going on volunteer mission trips, alone or with family, to many international locations since 1985 with 50 completed missions so far.
Matthew Brown
Matthew grew up on the drilling rig, tagging along with his father and uncles every chance that he had. Matt repaired and installed pumps in the evenings after high school and during college. Then, due to the "big drought" of 2002, Matt left college to drill. Late in 2012, Mark, Matt's uncle and one of the owners of the company, retired due to poor health, and Matt then became the third owner in his place.
Matt has a passion for helping folks have good, clean water. He is active in the local community as part of the Board of Directors of North Carolina Ground Water Association. He has also followed this passion to other countries as well, traveling with Vaughn to Indonesia after the 2005 Tsunami to install a water treatment system and taking yearly trips to drill wells in Haiti since 2010. He has taken these opportunities to become a drilling instructor both domestically and internationally, too. Matt has a driller's heart and is proud to be carrying the family business into its third generation.
CERTIFICATES
We are proud to be a part of so many happy clients' lives and take great pride in the quality of our work.

NATIONAL GROUND WATER ASSOCIATION (NGWA)
Certified Well Driller/Pump Installer (C.W.D./P.I.)
Certified Vertical Closed Loop Driller (Geothermal) (CVCLD)
NORTH CAROLINA
P-1 plumbing
H-1, H-2, and H-3 mechanical license
North Carolina Level "A" Contractor Certificate
TENNESSEE
"WP" Certificate
Well Drillers' Certificate
Pump Installers' Certificate
SOUTH CAROLINA
"B" Environment and Rock Certificate
VIRGINIA
Master Drillers' Certificate
Journeyman Certificate
OTHER
Electrical certification pertaining to well drilling