While our team at Yadkin Well Company primarily focuses on wells, we also have extensive experience in geothermal energy systems. Geothermal systems are a simple yet highly effective way to lower your heating and cooling bills, and we encourage you to consider having one installed on your property. Below, we'll provide a basic overview of how geothermal heating & cooling systems work to help you determine if they are right for you.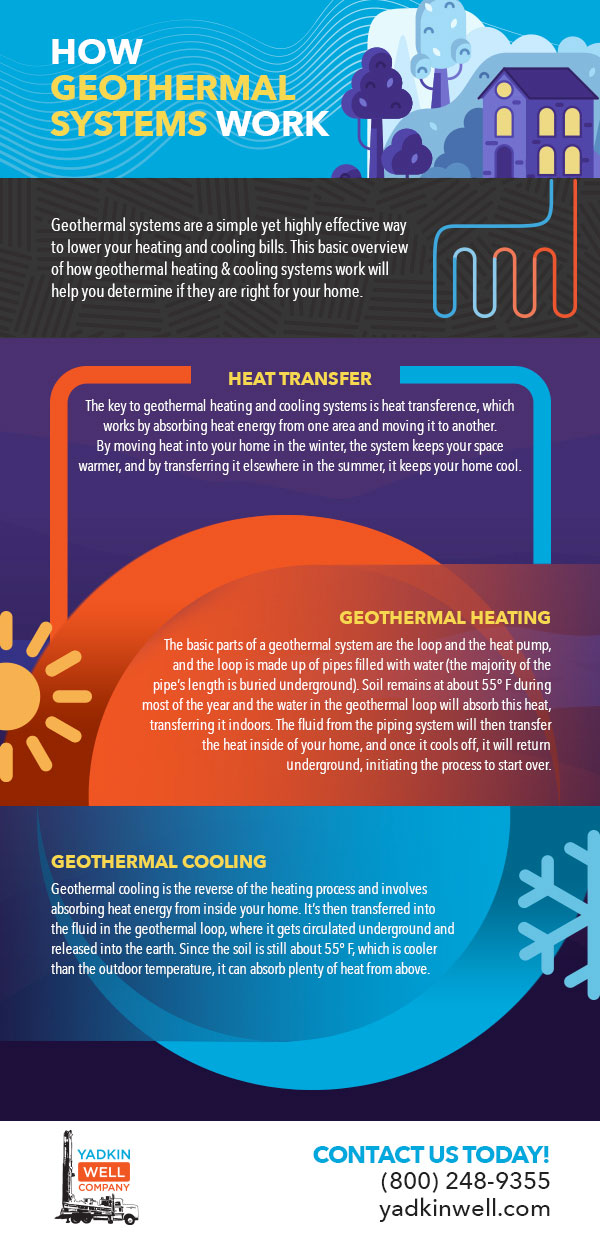 Heat Transfer – The core principle that makes geothermal heating and cooling systems work is heat transference. Our geothermal systems are designed to absorb heat energy from one area and move it to another—by moving heat into your home in the winter, the system keeps your space warmer, and by transferring it elsewhere in the summer, it keeps your home cool.
Geothermal Heating – The basic parts of a geothermal system are the loop and the heat pump. The loop is a closed circuit of pipes filled with water (and an environmentally safe anti-freeze), with the majority of the pipe's length buried underground. Past a certain depth, soil remains at about 55° F throughout the year, regardless of the weather or season, and the water in your geothermal loop will absorb this heat and transfer it indoors. Once the fluid transfers the heat inside your home, it cools off and is then returned underground to start the cycle over again.
Geothermal Cooling – Geothermal cooling is essentially the reverse of the heating process. Your system's heat pump absorbs heat energy from inside your home, transferring the heat into the fluid in the loop. The fluid then gets circulated underground, where it releases the heat into the earth—the soil is still about 55° F, which is now much cooler than the outdoor temperature, which in turn means it can absorb plenty of heat from above. This process cools the air in your home and makes it much more comfortable.
If you want to know more about our geothermal systems or how to get one for your home, simply give us a call to consult our experts.