We are on call to make sure that our neighbors get the well water services they need.
At Yadkin Well Company, we are proud to be the primary provider of well drilling services in Wilkes County, North Carolina and beyond. We know that when it comes to ensuring your home or business has reliable water, you need a water well that is going to require little maintenance and be a dependable source of water for a variety of needs.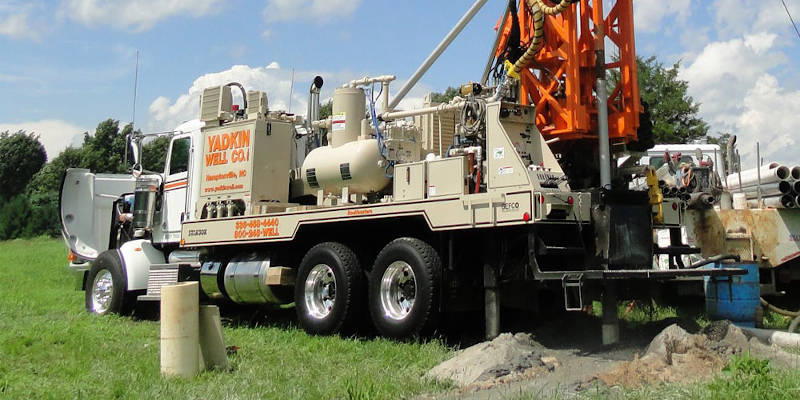 What you may not know is that not all water well companies are created equal. While we aren't the only company around here that offers well drilling services, we are the people who get called when specialty work needs to be done. For example, if there is a tricky spot where a well needs to be dug, we are on call to make sure that our neighbors here in Wilkes Countyget the well water services they need.
You Deserve Quality Water For A Quality Life!
When compared to other water well companies, you'll also find that we offer solutions others cannot. For example, we offer geothermal drilling for residential and commercial locations within urban areas of the county, which allows us to offer both dependable well water services and heating and cooling solutions for a variety of applications. Our well drilling equipment comes in handy for both things!
You'll also find that because we have been in business since 1964, our experience makes us one of the best water well companies you could hope to find. We are leaders in our field, and there is reason you'll want to call us when you need help with water well installation, maintenance, or repairs.
Let us provide all of the necessary services for your residential or commercial water well. Contact us today.
---
At Yadkin Well Company, we are proud to be one of the water well companies serving Yadkin County, Yadkinville, Ashe County, Surry County, Dobson, Mount Airy, Winston-Salem, Greensboro, High Point, Hickory, Charlotte, Mooresville, Lenoir, Wilkesboro, Statesville, Raleigh, Durham, and Wilkes County, North Carolina.
Similar Services We Offer: