With the correct well maintenance & repairs, many issues can be resolved, and you can enjoy the quality water you deserve.
The key to preserving the function of any equipment or system is to keep up with regular maintenance and any needed repairs. That holds true when it comes to the well on your residential, agricultural, or commercial property in Yadkinville, North Carolina. At Yadkin Well Company, we offer well maintenance & repairs that are designed to keep your well in top condition or resolve any issues it may be having. Here are a few of the various services we offer for existing wells in the area: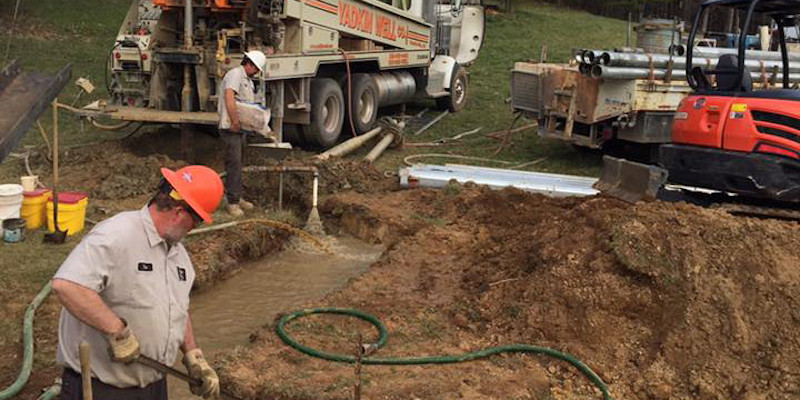 Pump Repairs- When your pump stops working, it is not always a lost cause. We can work on water pumps of all shapes, sizes, and functionality. From jet pumps to submersibles, 1/2 horsepower to 40 horsepower, 110 volts to 460 volt three-phase systems, and roll or stick pipe, our professionals know how to work on your system.
Down-the-Hole Survey- A down-the-hole video survey allows us to review the casing or tubing in your well to better determine the cause of your issue(s). Some possible issues you could find yourself having are soot/sand in the drinking water or slow flow rates, and some possible causes of these "symptoms" could be that you have holes, cracks, or corroded areas within the well. With the correct well maintenance & repairs, many issues can be resolved.
Hydrofracking- We were a pioneer in North Carolina to use this process on water wells, with over 25 years of experience, since it originated within the gas and oil companies. Using only chemical-free, clean potable water, we can increase the yield of new and already existing water wells by enlarging small fractures in the bedrock that are already supplying the well, which allows for more water to enter your well. All we do is create a seal within your well and inject water at a high enough pressure to fracture the vein of water already supplying your well, allowing more water to flow in.
Well Abandonment- Water well abandonment is the process of filling a dry or unused well in order to protect groundwater from pollutants and contaminants, as well as protect children and animals from potential harm. We have the equipment to fill all types of wells quickly and safely, including drilled, bored and even hand-dug wells. It is important to have a well abandoned properly by a professional because the well owner is responsible to permanently abandon a well if it can act as a source of contamination. A certified well contractor must be used to abandon all wells in North Carolina.

Reach out to us today if you are in need of well maintenance & repairs at your home, farm, or business. We look forward to helping you have quality water for a quality life!
---
At Yadkin Well Company, we offer well maintenance & repairs in Yadkin County, Yadkinville, Ashe County, Surry County, Dobson, Mount Airy, Winston-Salem, Greensboro, High Point, Hickory, Charlotte, Mooresville, Lenoir, Wilkesboro, Statesville, Raleigh, Durham, and Wilkes County, North Carolina.
Similar Services We Offer: