We can often complete well services that others cannot.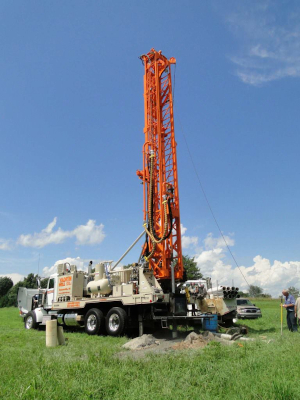 At Yadkin Well Company, we have consistently added more well services since our inception in 1964 because we want to be your one-stop source. We continue to grow, learn, and teach as we provide clean and healthy water to our clients on projects of all sizes throughout Raleigh, North Carolina. Our well services include:
Residential well drilling
Commercial well drilling
Farm water well drilling
Deep rock well drilling
Well pump installation
Well inspections, including water well testing and well flow testing
Water pump repair
Well water pump replacement
Emergency well services for farms, industries, and others
As a third-generation, family-run business, we have been able to cultivate, strengthen, and grow with our customers. This gives us the unique knowledge with well services that only experience can provide. In fact, we often handle drilling projects that other companies turn away from! There are three main types of wells that we drill: 6-inch wells, 8-inch wells, and environmental wells.
Yadkin Well Company: Geothermal & Well Drilling Experts
6-INCH wells are typically used for normal home usage or and are roughly the equivalent in commercial usage.
8-INCH wells are for wells under higher demand such as large commercial projects along with agriculture and irrigation needs.
We are also happy to walk you through the types of water well pumps, including hand pumps, jet pumps, and submersible pumps. Hand pumps are great for emergency water backups or off-the-grid retreats and are installed on wells no deeper than 300 feet. Jet pumps are great for wells that are expected to be used lightly, around 10 gallons per minute (GPM), and no deeper than 100 feet. 3- to 4-inch submersible pumps are great for the majority of residential projects along with some light commercial and agriculture projects, with requirements up to 60 GPM and less than 1,200 feet deep. 6-inch submersible pumps are the same as the 3- to 4-inch ones, but since they are larger, they are used for larger projects. These are best high-volume wells for commercial or agriculture projects.We hold several certifications and licenses, not just in North Carolina, but also neighboring states, so you can be confident that we'll complete your well services right the first time. We back up what we do so your complete satisfaction is assured. By investing in quality machinery and equipment, as well as professional team members, we can often accomplish well services that others cannot.
If you are in need of any of our well services at your home, farm, or business, don't hesitate to reach out to us. We won't always be the lowest bid you get, but we will always be the best value!
---
At Yadkin Well Company, we offer well services in Yadkin County, Yadkinville, Ashe County, Surry County, Dobson, Mount Airy, Winston-Salem, Greensboro, High Point, Hickory, Charlotte, Mooresville, Lenoir, Wilkesboro, Statesville, Raleigh, Durham, and Wilkes County, North Carolina.
Similar Services We Offer: